Durante esta semana em conversa com um jovem, ele falava que deviam de inventar uma máquina do tempo. Para ele poder voltar ao dia anterior e assim ganhava o 100 milhões do Euromilhões e eu fiz uma observação:
– "Como do Regresso ao Futuro (Back to the future)?"
e o miúdo ficou de boca aberta a olhar para mim, e diz:
– "o que é isso?"
Com esta observação quem ficou espantado fui eu, como é que é possível um jovem com 17/18 não conhecer este clássico do cinema, como é possível….
É neste momento que eu me sinto um velho, apesar de ter apenas 28 anos…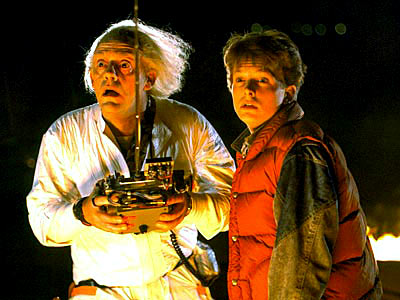 Hoje lembrei-me disto e fui rever os 3 filmes, passando mais de vinte anos os filmes continuam modernos e com uma grande qualidade gráfica.
O único erro grave que eu encontro, é que a ideia deles do ano 2015, com uma sociedade ultramoderna, com carro voadores, nunca vai ser em 2015 na realidade.
O primeiro filme foi feito em 85, dois anos depois de eu ter nascido 🙂